The Tampa real estate market is growing steadily. It is even reported that home prices in Tampa have risen the fastest in the United States, according to a national index. So, properties in this city have a good opportunity for a strong appreciation in the upcoming years. For years, it is the Phoenix real estate market that led the country. But now, for the first time in almost 3 years, Tampa has replaced Phoenix.
Tampa had the most rapid growth in housing prices with a gain of 34.8% in March, followed by Phoenix with 32.4% and Miami with 32%. For those of you who are curious and interested about real estate markets in Tampa, Florida, we will help you to forecast the trend, price, and more for the upcoming years.
Tampa Real Estate Market Statistics
Home is selling great fast in the Tampa housing market with hot homes getting a lot of offers. There is less than a month of the available inventory in the entire Tampa St. Petersburg Clearwater MSA. As it is said before, home prices in the city have risen the quickest in the country. And one of the main factors in rising home prices in Tampa is the tight supply. The current months' supply of inventory is 0.6, down by nearly -14.3% compared to last year.
Back in May this year, home prices in Tampa were up 21.2% compared to last year, selling for a median price of $400,000. Averagely, homes in the city sell after 7 days on the market compared to 7 days last year. According to Florida International University and Florida Atlantic University housing data, home prices in Tampa are 52% above where they should be. On average, homes are sold for more than $100,000 above its historical pricing trend in April.
However, Tampa real estate is one of the most affordable in the state of Florida. Not only that, but it is also one of the most popular real estate markets for rental homes in the United States. There is a huge amount of pent-up demand for entry-level, single-family homes.
Population Growth in Tampa
For the past 10 years, the Tampa population, including Hillsborough County, has experienced a net population increase of more than 230,000 new residents, according to the statistic from the US Census Bureau. The latest population growth report shows that more people are coming to the Tampa Bay metro area instead of Palm Beach, Fort Lauderdale, or Miami. Below are the key population statistics of Tampa, Florida.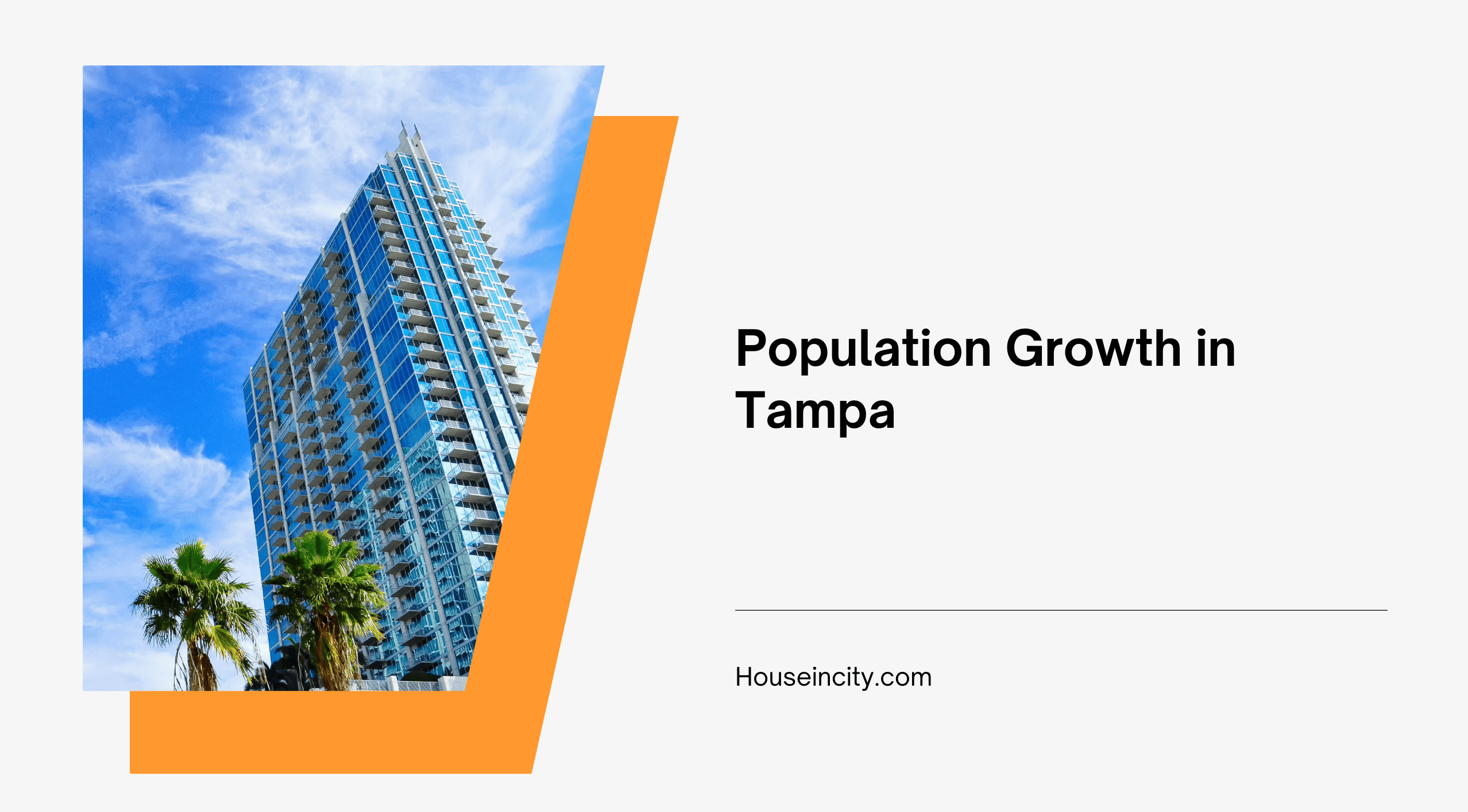 Tampa is the 52nd most populous city in the United States and the 3rd most populous city in Florida, right behind Miami and Jacksonville.
The MSA of Tampa consists of Tampa, Clearwater, and St. Petersburg.
Last year, the population growth in Tampa was 1.3 percent and is predicted to grow 3.3 percent annually for the upcoming few years.
Almost 385,000 residents live in the city of Tampa and there are almost 3.1 million residents in the Hillsborough County or Tampa Bay metropolitan area.
It is predicted that more than 126,000 new residents will move to the metropolitan area by 2024.
The population growth in the Tampa MSA is forecast to be 25 percent for the upcoming 20 years with over 3.8 million people living in the metropolitan area by 2040.
Tampa's Booming Economy
Job growth in an area is an exact way to increase its real estate market for both commercial and residential properties. The Tampa housing market also has experienced similar growth in requirements for family and single homes as more people are moving to this developing metropolitan area for seeking jobs. People are moving to Tampa especially because of the fact that this city is one of the quickest-growing centres in the United States.
Four Fortune 500 companies are headquartered in Tampa, making it a pretty attractive city for work as well as economic growth. Moreover, tons of small businesses and entrepreneurs are starting to make their ways to Tampa to look for more affordable expenses and better prospects for running their start-ups. And getting residential spaces is one of the essential priorities for such business owners and professionals when they move to the city.
Tampa is a city with a very diverse economy coming from a variety of sources. For example, health care, tourism, education, financial services, beaches, research, STEM, and military bases. All these give significant contributions to growth and jobs in Tampa. These are what boosts Tampa economy.
Living Cost in Tampa
With the prospective, rapid growth in the real estate market of Tampa, people from all over the nation are considering moving here. And one of the fundamental reasons why people do so is because of the affordable living cost in Tampa compared to other cities in the country. The affordable living cost makes Tampa a top choice for small families as well as retirees who are searching for residence and to improve the quality of their life in general.
The cost of living in Tampa is 5 percent lower than the national average.
Housing expenses in Tampa are 23 percent lower than the national average. Moreover, utility prices are 16 percent higher than the national average.
Tampa's healthcare is 2 percent lower than the national average.
Transportation expenses in Tampa, such as gas prices and bus fares are 6 percent higher than the national average.
Quality of Life in Tampa
The current reason and past reason why people are moving to Tampa are still the same. Job opportunities, waterfront areas, nearly perfect weather, and reinvention of the urban core are just a few of the countless reasons why the quality of life quality in Tampa is dragging more businesses, people, and rental property investors. Here are some statistics about the life quality in the city.
The living cost index from the Tampa Bay Economic Development Council reports that it is more affordable to live in Tampa compared to other big metropolitan areas in the United States, such as Phoenix, Nashville, Atlanta, Orlando, and Denver.
Forbes ranks Tampa is one of the best places for job growth, careers, and business.
The US News and World Report gives Tampa a high rating in terms of overall value, desirability, life quality, and job market.
There is Water Street Tampa, which is a $3 billion versatile development project that has turned the Downtown Waterfront into a cheerful place to live, play, and work.
Tampa has the best entertainment places. Sparkman Wharf, Tampa Museum of Art, and The Florida Aquarium are some of them.
It also has professional sports teams, including the NHL Tampa Bay Lightning, MLB Tampa Bay Rays, and NFL Tampa Bay Buccaneers.
Rising Home Prices and Rents in Tampa
Prices of residential properties in Tampa grow rapidly, though they are still cheap compared to other real estate markets in the United States. So, this is a good time for investors to get a property and keep it for a while before putting it in the market at a higher price as Tampa real estate will appreciate it for the next few years. Investors can also buy a property at a lower price right now, then rent it out to newcomers of the city to improve their cash flows.
Investors can opt for selling their properties to better prospects later when the home selling price increases. This means that Tampa real estate market is a promising business and investment for short-term leases, including tourist accommodations and rental homes. A single-family home is a good choice if you only have 10 percent of your income to put aside for buying an investment property. It also makes sense if you consider getting a loan and there is no restriction on rentals.
The Zumper Tampa Metro Area Report analyzed active listings across 7 metro cities. This analysis showed the most and least expensive cities as well as cities with the rapidest growing rents. The one-bedroom median rent in Florida was $1,578 last month. One-bedroom place priced at $2,000 in Sarasota, making it the most expensive city. While Lakeland was crowned as the most affordable city with rent at $1,010.
When you are looking for the best place to purchase rental properties, it is about finding growing markets. Cities like Largo and Sarasota are nice for investors who want to get started with rental property ownership at a low price. Rents are growing in these cities, making them a good place for rental property investment. These trends give a macro look at the rising rental demand. Every real estate market has its own attractive supply-demand dynamics with interesting neighbourhoods, presenting their own chances for investors.
Tampa Real Estate Market Trends
The residential real estate market in Tampa continues to grow smoothly even during the global pandemic. Tampa is a great seller's real estate market due to the low month's supply of inventory. This means that the demand from buyers exceeds the current supply of homes for sale. In this current phase, the home pricing tends to be higher and more interesting for sellers. The lack of supply and a rise in the demand for housing pushes the price higher in the Tampa real estate market.
There is an analysis of the Tampa housing market provided by some listing services in Florida, which compares key housing metrics of the Tampa (Metropolitan Statistical Area) MSA from March 2021 with March 2022. The report shows housing market statistics focusing on the Tampa Bay region with a relatively high population density at its core and close economic ties throughout the area.
The report also becomes evidence that the global pandemic does not majorly affect Tampa housing market. Around a year ago, a California-based property data company named ATTOM Data Solutions, found that the housing market in most of the counties making up Tampa Bay was included as the least vulnerable to the effects of the pandemic. There were 2 exceptions, which were Polk and Hernando counties that fall within the top 60 most vulnerable.
Pinellas County was the most resilient to the pandemic effects in Tampa Bay, followed by Pasco and Hillsborough counties. Back in March this year, home sales in the area of Tampa Bay experienced a negative growth of 7.2%. This is the result of rising mortgage rates and a shortage of inventory. While the median price increased by 30%. That is an amazing rate of appreciation in such a large market with an estimated population of more than 3 million people.
This shows that the area of Tampa Bay is a hot seller's market. The low mortgage interest rates are helpful for first-time buyers in terms of housing affordability. The combination of these low interest rates and low inventory helps sellers to quickly move their properties.
Tampa Real Estate Market Forecast 2022
Zillow recorded the price trends for the last few years in Tampa real estate market. The city has a record of being among the best long-term real estate investments in the nation since May 2012. Zillow home value index showed that Tampa, including Clearwater and St. Petersburg metro home values have appreciated by almost 194 percent. Back in March 2021, the typical value of homes in the city was around $265,000.
Based on the last month's main housing market indicators, it can be said that the demand exceeds the supply, giving sellers a benefit over buyers in price negotiations. There are more active buyers than there are fewer houses for sale in marketplaces. Moreover, in a balanced real estate market, it will take around 6 months for the supply to decrease to zero. When it comes to housing supplies, the Tampa housing market can tip to favour buyers if the supply boosts to more than 6 months of inventory. Unfortunately, this will not likely happen soon.
Tampa Real Estate Market FAQs

Does Tampa have a good real estate market?
Yes, the real estate market in Tampa remains strong to favour sellers. It does not significantly get affected by the coronavirus.
Is Tampa a good place to live?
Yes, this city has nearly perfect weather with relatively low living costs. It also has some of the best entertainment venues in the country.