Depending on flexibility and ease as a rental, it is your choice whether you want to go for a long-term or a month to month lease. Being a first-time or an old buyer, the uncertain thoughts regarding the lease agreements that generally last for a year is obvious.
However, a month-to-month tenancy is just what you need in that case, not just for the tenant but also for the landlord. If you're sceptical about whether you should give it a shot or not, then this article will walk you through its good and bad aspects so that you can have a final thought.
What is a month to month lease contract?
As the name suggests, a monthly lease is a monthly contract between a tenant and landlord that allows occupancy of the property for 30 days. This agreement can be in any form, be it written or oral. Overall, neither of the two parties can terminate the month-to-month contract.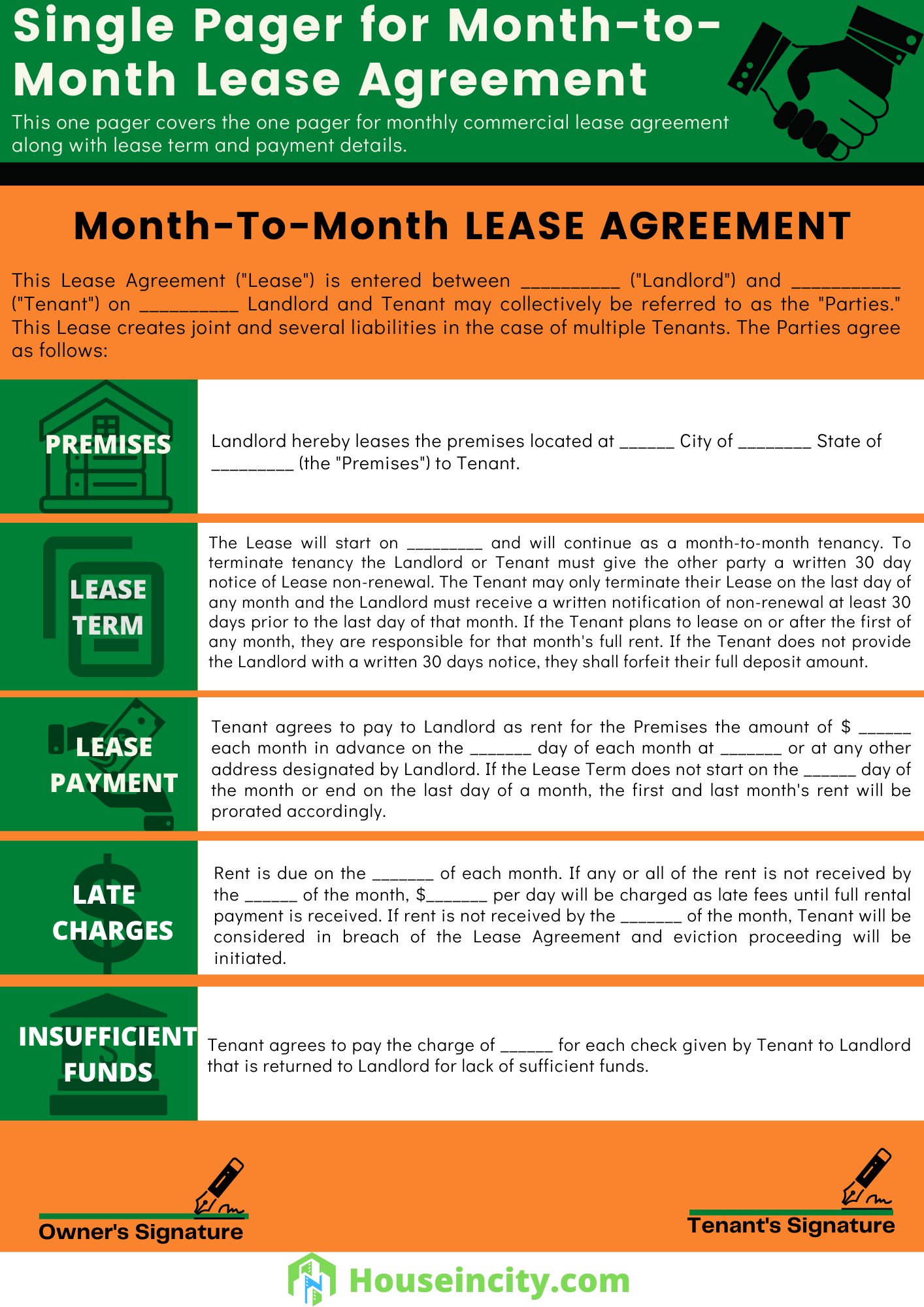 On signing a month lease, you as a tenant have the privilege of cancelling the lease on a month's notice. In addition, you don't have to pay the penalty if you shift to a new place under the monthly rental agreement.
Talking about the benefits for the landlord, they enjoy as much flexibility as a tenant because they can terminate the contract even if you don't have any other place to live. Therefore, it is essential to understand the depth of a basic month to month rental agreement before moving ahead with it.
What is the use of opting for a month-to-month lease contract?
A monthly contract is more secure and flexible, especially for a new tenant of the states. Even if you're an old tenant for a fixed rental, you can opt to pay the rent month to month. It is mainly the freedom that comes with this short-term contract that you can keep exploring for better properties across the city.
Not everyone is comfortable with a fixed rental, but you can shift to a monthly lease if you have been an excellent tenant to your landlord.
Why do you need a month to month lease apartments: Benefits for the tenant
As per the U.S. Census Bureau reports, there are more than 43 million renters across the states with common reasons and ways in which they want to rent an apartment. Renting month to month basis usually has the following reasons and points; read through to know-how:
1. Flexibility – Month to month allows tenants flexibility if they want to move out, which is impossible in a yearly lease. You might have to shift if you're getting married or simply thinking of buying a new home, so a month-to-month basis of contract offers the much-needed flexibility in this case.
It all depends on your relationship with your landlord. If you have always shown punctuality in paying the rent, you can ask your landlord to consider a monthly lease in place of a yearly contract.
2. Penalty-free contract – Many uncertainties will cross your mind, especially for a new buyer. Income and travelling luck are among those during a fixed-term contract because of the leftover payable rent for the time you move out and the landlord's search for a new tenant. However, that's not the case with the lease month-to-month term.
You can shift at a 30 days notice period, unlike a fixed lease where you will have to pay for the leftover period before vacating.
3. Boon for the newcomers – If you're a newcomer to the states, you will need some time to adjust and be comfortable with your surroundings. Therefore, you should rent a month-to-month payable property in that case. It will help you cancel the contract if the expenses are too much to afford for your pocket.
4. Your home is under maintenance or construction – Month to month rentals are the go-to option if your house is under construction and you have to relocate to a different place for the time being.
What are the possible disadvantages of month to month tenancy: benefits for landlords
Every term of real estate comes with its share of pros and cons. However, tenants may find disadvantages are the benefits of month to month lease for landlords. Nevertheless, you as a tenant must have a look at them before going ahead with month to month tenancy:
1. Higher rent – Renting month to month is more expensive than a fixed lease month to month because of renewal after every month. Like buyers, lenders also have the authority to change the term after 30 days. They may increase the rate by $30-$130 on a month to month rental agreement.
A renowned broker of the Platinum group Real Estate stated that the monthly rental of a 2-BHK property is near $1,877 in the USA. Furthermore, a survey by Transunion found that 91 out of 100 cities in the USA saw a subsequent increase in the monthly rentals.
2. Occupancy on short notice – short-term agreements like a month-to-month lease is a two-way road. Just like a tenant enjoys the flexibility of leaving on short notice, so does a landlord who holds the power to demand vacancy at a 30 days notice.
3. Landlords can say no – Some landlords may have a loan on the rental property, so they might not agree to a month-to-month lease because of uncertainty. A possible reason may also be that the lender has a pending construction.
4. Change in terms – Another drawback of a month to month lease agreement is that the landlord can change the contract terms. It means that he can increase the price of the amenities and change the accessibility of the utilities.
Conclusion
A month to month contract is the best option if you're uncertain about continuing the contract. Especially the tenants with less income threshold are keen on this agreement instead of a fixed yearly rental. The buyer and the lender enjoy equal rights on a month-to-month basis of the earlier contract.
The prices, however, will be a bit higher in this case with an additional fee for amenities; you can always discuss it with your landlord. But, in the end, it is you who will have the final call because the merits and demerits are listed before you!