If you're eager to make massive profits from the real estate industry, house flipping would be a great choice. Earning money through home flipping is not as easy as it appears to be on the screen. So, how to get started flipping houses?
Just like any other business, home flipping requires expertise, proper planning, and a tremendous amount of hard work to be successful. Good judgment and patience are essential for timing-based real estate investing like home flipping.
Now, you must be wondering how to flip a house for the first time? If you're new to the house flipping business, buying and flipping real estate properties can be challenging. All you need to do is avoid the pitfalls that beginners tend to overlook. Once you get the hang of how to flip a house, house flipping can turn out to be a lucrative real estate investment.
Eager to find out how to flip houses successfully? Follow this guide to flipping houses to know more about how to flip properties and earn more profits by optimizing your business plan.
House Flipping Explained 
In the world of house flipping, investors who make money flipping houses purchase the property at a discount, do necessary renovations, and sell off the property for a profit. In simple terms, home flipping involves the basic investment strategy of buying at a lower price and selling high. Instead of purchasing a house to live in, investors purchase a property as a source of real estate investing.
House flipping is a lucrative real estate business for most full-time home flippers, especially if the real estate industry is doing well. It is also a source of considerable income for even part time house flippers. In most cases, there's more demand for properties than there's supply, making house flipping a profitable investment strategy.
The majority of the homebuyers do not have the expertise, money, or time to find the best deals or do their own renovations. Such potential buyers are more than willing to pay a reasonable price for a house where all the necessary repair and remodel works have been completed, and they are all set to move in.
This real estate investment strategy has the potential to provide huge returns. But just like any other type of investment, house flippers also face lots of risks. If you aim to become rich quickly by flipping homes, you may lose your financial stability. So make sure to proceed with caution and proper planning to avoid risks.
How To Flip Houses For Beginners? 
The key to successful house flipping is using a good business strategy and speed. The sooner you find a property and sell it for profit, the better. With that in mind, let's find out How to start flipping houses.
Instead of running around and buying a property to flip, it is advisable to understand the process involved in flipping a house. Since a huge amount of investment is on the line, you should avoid acting hastily, especially if it is your first time. Proper planning and creating a good house flipping business plan will help you advance in the world of home flipping.
To understand how the flipping process works, you need to follow the below steps to flip a house successfully.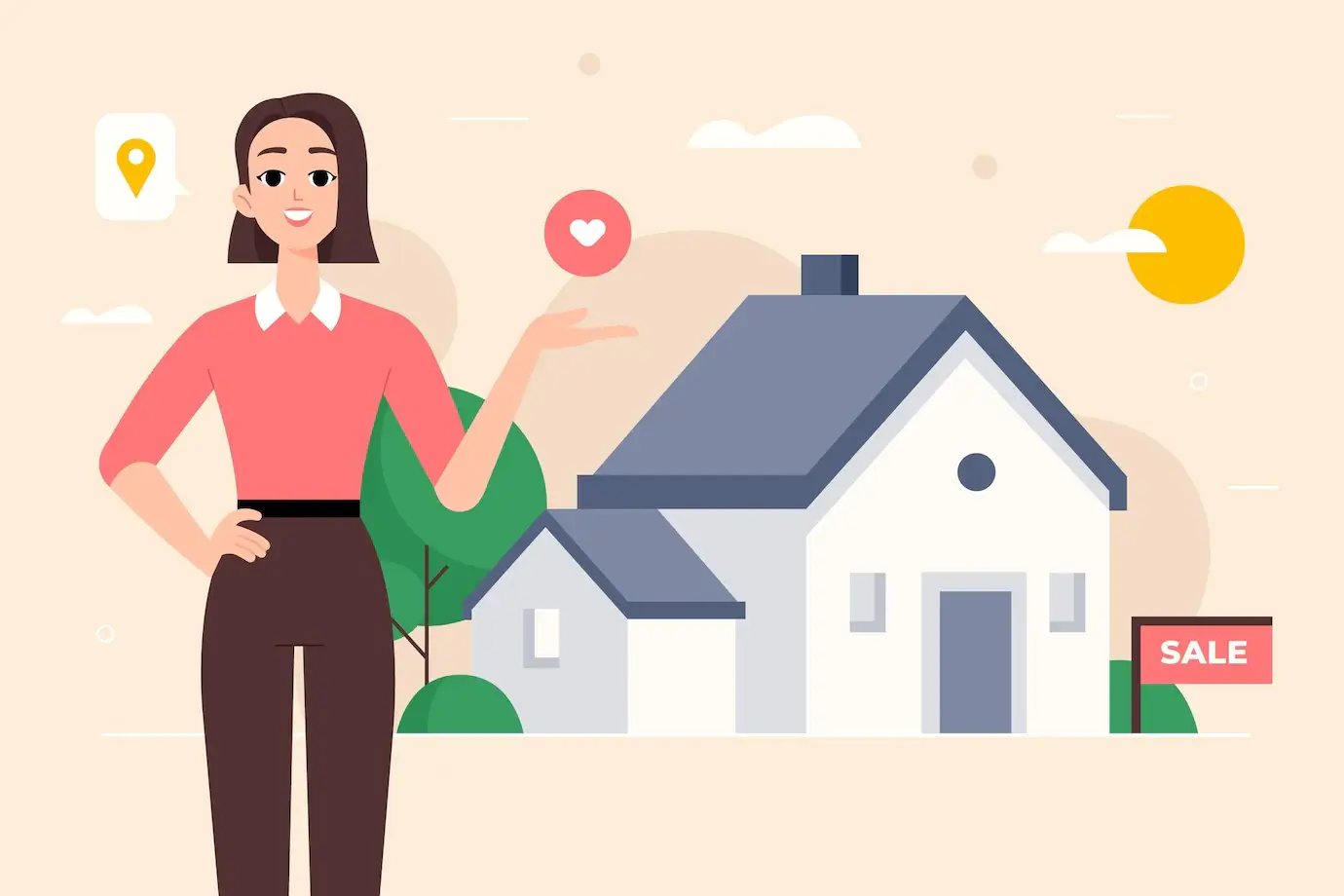 How To Get Started Flipping Homes? Steps To Follow
The basic rule for home flipping is to have a good plan. You need to clearly understand the entire process and plan out every detail before you invest in a property. For this, you will have to talk with experts, conduct careful research, sharpen your negotiating skills, and much more.
Step 1: Conduct Local Market Research
Before you get involved in your first flip project, you need to take time to research the real estate market. With the excitement that follows, many investors often ignore this important step. Skipping the local real estate market research can end up creating a disastrous flipping experience.
Buying a house low and selling for a profit seems to be easier said than done; in order to make a profit while flipping houses, you need to choose a property situated in a prime location. Additionally, you need to factor in the cost of repairs that can offer an upside potential to the home's value.
If you find a house you're interested in, you can get a general real estate contractor to assess the entire property. They will provide you with an overall estimate of how much repair work needs to be done and whether the property fits into your budget or not.
Typically, working-class and middle-income homes are the best places to find a property that suits your budget. Getting in touch with a local real estate agent will also help you use their expertise throughout the home purchase process.
Step 2: Setting A Budget: Why It's Important?
Once you have a clear understanding of the local market scenario, you need to figure out how much you can afford to cover all the expenses related to house flipping. Setting a budget and sticking to it plays a crucial role while flipping a house.
For this, you will have to acquire the necessary funds and make sure that every decision you make helps you stay within your budget. By sticking to your allotted budget, you will be able to make a profit while flipping. Also, it will keep you from digging into your personal savings to cover the costs.
While setting a budget, aim to make a profit that ranges between 10 to 20% after selling. In order to determine the maximum price limit while purchasing a house, the 70% rule is a great choice for novice investors. As per the rule, you must not pay more than 70% of the property's after-repair value after reducing the renovation costs.
To make the best choice and earn a profit, you must consider the property's purchase price, the cost of repairs, and any additional expenses that may arise in the future. This will leave you with a favorable profit margin while setting up the budget.
Step 3: Arranging House Flipping Loans
You will have to opt for a short-term hard money loan or use cash to finance the project. Novice investors who do not have cash in hand to purchase a house can get a hard money loan from private lenders to cover the cost of the property and pay for all the renovations needed. Investors are not eligible for mortgage loans as they do not intend to reside in the house.
Step 4: Purchasing A Property To Flip
After you have selected the right property, you plan to flip, you may have to proceed with making an offer to close the deal on the house. Since the offer is below market price, most sellers Offer a purchase agreement with fewer contingencies.
When it comes to potential resale value to gain a high profit margin, you must consider some of the best options, including distressed and foreclosed homes. To make the right choice, you can get in touch with a real estate contractor or agent to estimate the cost of renovation works that need to be done.
Step 5: Connecting With The Right House Flipping Team
If you are involved in home flipping, you need to have a trusted team, including electricians, plumbers, carpenters, insurance and real estate agents, loan lenders, and subcontractors. As for the real estate contractor, you can either hire a professional expert or act as a contractor yourself and save money.
If you decide to be the contractor for the house flip, you will be able to get in touch and build a relationship with experienced and professional experts and use them again for your future projects.
Step 6: Flipping The House
Once the renovation is complete, the property is set to find a new buyer. At this point, the speed at which the property sells off is the essence. The longer the house sits in the market, the less profit you will earn. Please make the necessary improvements quickly and sell it off quickly. Get in touch with a real estate agent if you need expert assistance.
How To Start A House Flipping Business? 
If you're interested in setting up a short-term real estate house flipping business, here's how you can start:
Create an effective business plan – Before you start looking for financial assistance, you need to create a business plan to start your own house flipping business. The plan will help keep your business on track, estimate profits and get investors. Use the business plan to detail how you're planning to do the business, how much it will cost, and the amount of profit you expect to generate.
Expand your network reach – House flipping is challenging and requires numerous resources to complete each step. Experience is the key to gaining promising results in the real estate business. Either converse with your relatives and friends familiar with real estate investments or reach out to professional experts for advice.
Select a business entity – To legally operate your home flipping business, you need to pick a business entity and register your business in the state you wish to operate in. With many business entity types available, it's advisable to go for limited liability protection, as it protects your business if anything goes wrong.
Obtain licenses, permits, and insurance – After registering your business, you will have to look out for the right business licenses and permits based on the scope of your work and the state you operate in. Also, check out insurance options that protect your business, properties, and yourself.
Hiring the right team – With the flipping business legally established, you need to find suppliers and contractors to assist with the smooth operations of the business. In addition to that, you'll also have to recruit a team of qualified people to flip and earn profits successfully. To ensure the smooth running of the business and keep things organized, you will have to appoint the following:
Legal counsel.
Property owners.
Business investors.
Get the finance for flipping – If it happens to be your first flip, you will not be eligible for a conventional bank loan. Banks approve loans only if businesses have years of profitability. Since time is money for home flipping businesses, you will have to opt for short-term financing options such as:
Getting financial assistance from family and friends.
Opting for combination financing.
Taking a loan from your 401(k).
Sourcing out the home flipping deal – Based on the demand and supply, you must identify the target market and decide who the right choice for your property is. If you're new to the real estate market, a traditional broker is a right choice for your project. For distressed properties, an auction or real estate wholesaler would be great.
Flipping Houses: Is It The Best Choice For You?
Now that you know how to get into flipping houses business, you would be eager to learn if you should become a part of this real estate investment strategy. To understand, it is best to know the benefits and drawbacks of flipping homes.
| | |
| --- | --- |
| Benefits | Drawbacks |
| Can make huge profits. | Can lose money while investing. |
| Less risky than other investment opportunities. | Requires great planning, expertise, and proper budgeting. |
| Suitable for investors with better skills. | Requires external assistance and support. |
| Need better insight of the local real estate market. | Must have in-depth knowledge and experience in the local real estate industry. |
Flipping Houses 101: Final Thoughts
If you're still thinking about how to make money flipping houses, it is advisable to play it safe with caution. Flipping houses will be a profitable business option for most investors by using the right house flipping business plan and carefully setting up the financial details.
Keep in mind that you may not notice overnight success using the strategy and may even make lots of mistakes and lose money in the process. Even if you make only small amounts of profit initially, you will gain valuable industry experience along the way.
Getting the right team of real estate experts will make the process more easier. Once you find out the best way to flip houses, you will be able to enjoy a track record of success and gain more profits to fund your home flipping business.