If you own a home, you ought to have a homeowners insurance. Owning a home is a big milestone for many around the world. It is a dream come true for most homeowners. After years of toiling to make money, then choosing the right place and finally investing in it can be a lengthy process.
One cannot forget the number of considerations and negotiations that go into buying a home. House insurance is just as important as all these other factors you consider before signing the sale deed. The homeowners insurance helps you protect all this highly valuable property of yours against most odds.
What Is Homeowners Insurance?

Let's first understand what exactly is a homeowners insurance policy.
A home is your property, where you invest your money and get ownership of. Now, just like any other asset, this property will incur losses, wear and tear, maintenance, and damages.
A home owner's insurance is a layer of protection. You are typically protecting yourself from losses and damages that can affect your home and its assets. In case of such damages, the insurance policy will cover your losses to the extent mentioned in the policy. This, in turn, will help recover and restore faster.
If you take a mortgage on your house, the insurance policy will also protect the lender's interest. After all, what hold will they have if the house incurs damages? The insurance on the house will help mitigate the lender's loss to a great extent, if not in full.
What Does Homeowners Insurance Cover?
Understanding a homeowners insurance coverage is very important if you own a home. You need to know what does home insurance cover and what you need to look for in a good policy.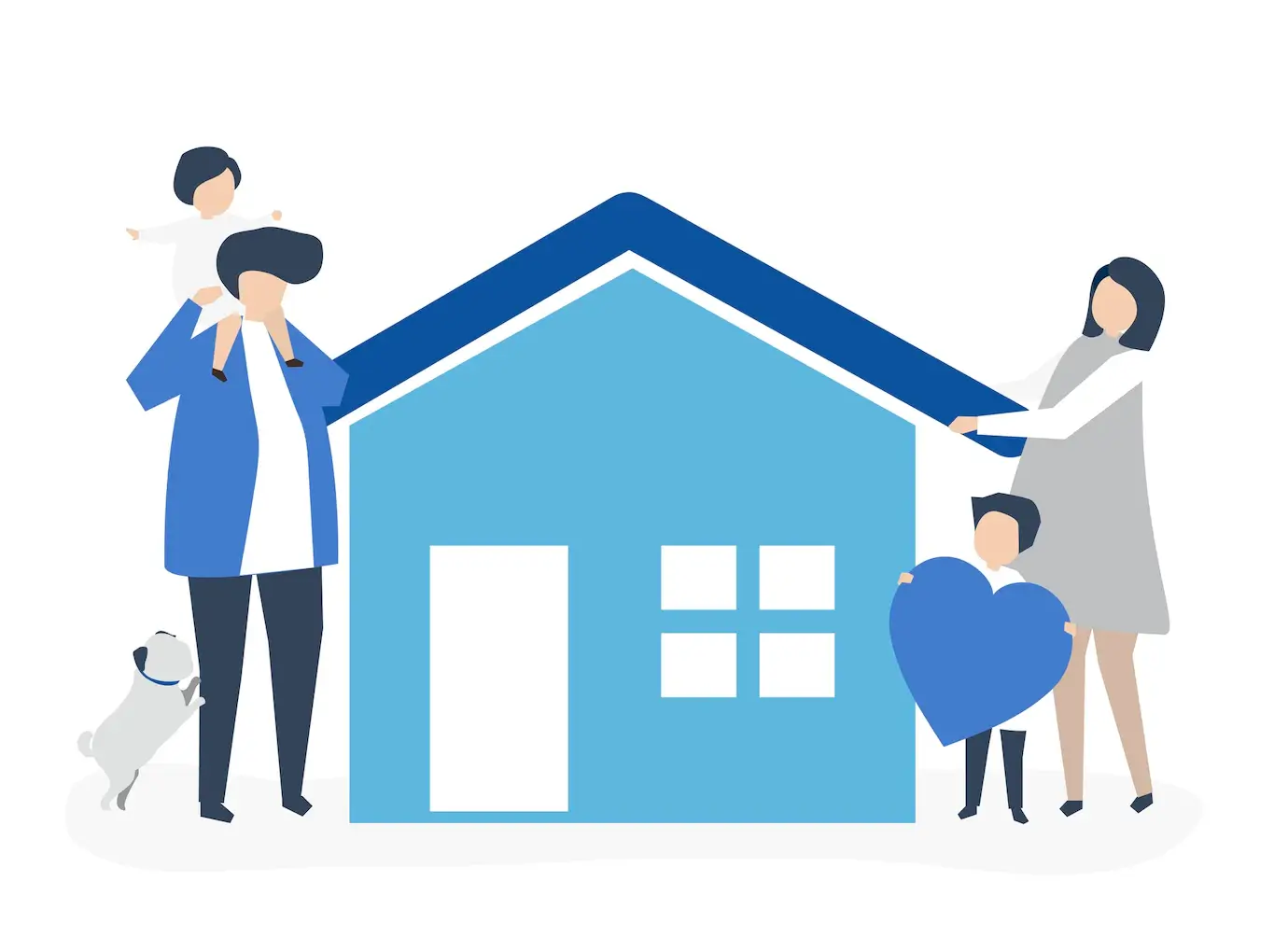 Typical house insurance will cover:
Exterior damage
Interior damage
Damage to personal assets
An injury that happens while on the property
This again depends on each company and can vary from policy to policy. It is important to find out what exactly home insurance covers before you can avail of that particular policy. The market has many insurance providers, and you have enough options to choose from. So, if you are not happy with one company's offers, you can always choose another.
From a broad perspective, there are four different types of protection when it comes to home insurance. How much is home insurance will depend on which policy you opt for?
Dwelling coverage is the part of the insurance policy that will typically cover –
Natural Disasters – Most homeowners insurance policies will protect the homeowner from natural disasters like rain, snow, hail, electrical accidents, or even a tree falling on the house.
Fire – A Fire accident can make a living in the same house difficult, especially during refurbishment. The homeowners insurance will cover all the costs for  rebuilding and alternative living arrangements.
Theft – Theft and vandalism are man-made disasters that are not easily predictable. If your insurance covers the personal assets inside the house, then it will compensate for theft of those items.
Some policies help protect structures around the main building, like your garage, pool, shed, outhouse from losses too. The cost of this coverage will be much lesser than that of covering the main house.
Protect Personal Property
What about all the items inside the house? Can you live without them in case of an accident or theft? No. House insurance policies will help pay out for the loss of belongings such as electronics, clothing, furniture, and other basic items in the house.
If you want insurance for something specific, you need to take a separate policy on it or find a home insurance policy with additional coverage for that item. Such an extension to the policy is a "rider."
Some companies also provide off-premises coverage, where you can get insurance for your assets even if damage occurs off the premises. Different policies have different limitations. You need to find the one that works the best for your needs.
If someone who suffers an injury on your property were to sue you, the liability coverage will take care of the legal fees and cover their medical bills. The policy covers all these as long as it's within the policy limits.
Liability coverage will also include your liability towards your neighbor in case of an accident on your property. For example, if a fire in your house damages your neighbor's belongings, the policy will also cover those expenses.
Types of Homeowners Insurance Policies
Now that you know what all a typical home insurance policy can cover, let's take a look at what policies you can choose from:
HO-1 – A policy that will cover your house and the belongings inside for the cash value (what you paid for) against 10 types of damages.
HO-2 – Personal property coverage will be on actual cost, while dwelling coverage will include replacement cost. It Covers 6 more types of damages.
HO-3 – The most common type of insurance single family home owners take. Covers dwelling and personal property against all damages apart from those specifically excluded in the policy. Includes liability coverage as well as loss-of-use.
HO-4 – More common among renters than owners. It includes off-premises coverage for your personal assets.
HO-5 – Offers full dwelling and personal property coverage at replacement cost against all types of perils. It also offers high coverage for expensive belongings. It is usually taken by those in a high risk area, owning high value assets.
HO-6 – Commonly known as condo insurance. HOA insurance of the association will impact the cost of your insurance.
HO-7 – A HO-3 type of insurance specifically for mobile home owners.
HO-8 – For homes that do not meet the general insurance policy requirements. It could be an old home with high risk. The policy offers protection only from the 10 perils the HO-1 policy covers. If you want to improve it to an HO-3 coverage, you have to alter the structure.
What Does Homeowners Insurance Not Cover?
Unfortunately, homeowners' insurance does not cover everything. Some of the incidents or losses a homeowners' insurance will not cover are:
Damage Due To Neglect – If your property incurs damage due to your negligence or bad maintenance, the policy will not cover those expenses. For example, if there is a fire accident in your house because you did not maintain your electrical wires properly or replace them as per expert advice, the policy will not mitigate this loss.
Damage Due To Water – A typical policy will not cover any damages due to waterlogging as a result of floods or snow melting. If you live in a flood zone, you need to take an additional policy for protection against the same.
Damage Due To Earthquakes – Policies generally do not cover earthquakes, sinkholes, landslides, and other damages due to earth movements. You can take out separate insurance policies like earthquake insurance, etc.
Different insurance companies do not cover different things. These are usually hidden in the fine print. It is important to take time and read through the document carefully before you sign it. Do not sign the policy unless your homeowners insurance coverages explained neatly and meets your requirement.
How Much Is Homeowners Insurance?
One of the biggest concerns and the first questions when it comes to homeowners' insurance is – how much does homeowners insurance cost?
The following factors will influence a typical home insurance cost –
Your Location – Where you live is one of the most influential factors. The policy premium varies from state to state. If you are in a high-risk area, the premium will be high for obvious reasons.
House Condition –New houses will have lower premiums than old or ancestral homes. The simple reason is repairs and damage probability. The older the house, the higher the probability that the insurance provider will commit less. If your ancestral home was just renovated or refurbished, you could get a lower premium on your policy.
Deductibles – A deductible is an amount you pay before you claim your insurance amount. The lower the deductible you want to pay in case of acclaim, the higher the premium payable.
Credit Score – Your credit score represents how you are with your payments. If you have a low credit score, the risk you may not pay the money on time is higher. If you have a good credit score, the premium payable will also be lesser as your track record works as an assurance to the insurance company.
Claim History – If you claim your policy, your insurance provider will charge you more. In the case of unclaimed policies, the premium can be much lesser as you have a lower probability of making a claim. Until you claim the policy, the insurance company has no expense.
Pets – Certain insurance companies will not provide cover for houses with certain dog breeds. It may seem unfair, but that is their rule. In order to provide you third-party liability coverage in case your dog bites or injures someone else, the company will categorize the breed of your dog. Some breeds will attract a higher premium as they are riskier than other breeds.
9 Ways to Lower Your Homeowners Insurance Costs
Looking for ways to reduce your homeowners' insurance cost? The following ideas may help:
Do a thorough search of various policies available in the market. Get quotes, compare and choose the policy that offers the best value for your money.
You have to pay a deductible when you make a claim. Increase that deductible, and the policy premium will decrease. It won't be a loss for you – you will save on the premium and pay a higher deductible.
There is no need to insure your land. No matter what the damage is, the land will still remain. So, if you are taking insurance on the entire amount you paid for that house, think again and reduce the land cost.
If the company sells other insurances in addition to home insurance, take the ones you need from them. When you take different policies from the same company, you can get a discount.
Increase the safety of your house by maintaining it well and ensuring everything is disaster safe. The better the safety, the lesser the premium will be.
Avoid changing insurance as much as possible. New companies and competitors will always keep coming up with more attractive offers. The more you shift, the less benefit you will get for "loyalty."
Reassess the value of your property (external and personal). Things lose value as they get old. Sometimes, you may even discard something that is part of your 15-year-old insurance. Remove such items from the policy and reduce your coverage.
Plan for the homeowners' insurance when you buy the house. Do not invest all your money into the house and then go shopping for insurance. It will become a financial burden right from day one.
Maintaining a good credit score can reduce your premiums with some policy providers.
How Does Homeowners Insurance Work?
Let's say you have a homeowners' insurance policy worth $60,000. In case of a natural disaster that damages your house and the contents inside, you will have nowhere to go. You will then approach your insurance company. They will bear the costs of alternate lodging, be it in a hotel for a few days or a rental apartment until you repair your house.
The company will assess the damages and come up with a figure to restore your home. If the estimation is $ 40,000 and you have a deductible of $5,000 as per the policy, the company will give you $35,000 to help restore your property.
Different Types Of Homeowners Insurance
An important part of knowing how much does home insurance cost is helps in picking the right type of insurance. Different types of home insurances offer different coverages. There are different policies for different types of houses, needs, and coverage areas. You can choose a policy that covers your needs the best.
If you go purely by the homeowners' insurance cost, you may not get sufficient coverage. The higher the coverage you want, the higher the payment will be.
These policies can be broadly classified into –
Replacement Cost Policies
When you lose something – be it your house or belongings- this type of policy will help you replace what you lost. Once you pay the deductible as per the agreement, they will pay up the cost of the items you lost, to help you replace them. Depreciation does not come into consideration here.
Standard Policy – As per this policy, the insurance company will pay the actual costs required to replace your property to what it was before the accident occurred. Such a policy even considers the inflation costs.
Guaranteed Policy – As per this policy, the insurance company will pay the final cost required to replace the property.
Let's break it down with an example.
If you took out a homeowners' insurance policy for $500,000 on your house, the standard policy would pay you $500,000 plus the inflation cost. So, if the value of your property is $800,000 today, that is the amount you will get.
On the other hand, if you have taken a guaranteed policy, the policy will pay you for restoring the $500,000 property to what it was before the accident. So, this could be just $800,000 or much more than that. The policy will cover it all.
Actual Cost Policies
Such policies take depreciation into account before they pay the amount to you.
Going with the previous example, you have a policy worth $500,000, including your refrigerator and washing machine inside the house. Now, in case of an accident, the company will take the depreciation of the refrigerator and the washing machine into consideration and pay you the amount after deducting the same.
The end result will be less than $500,000.
How To Choose the Right Homeowners Insurance
Wondering how to get homeowners insurance? If you are buying homeowners insurance for the first time, it can be quite confusing and daunting to make the right choice. Don't worry; we have a few tips to help you choose the perfect homeowners' insurance.
Know Your Need – How much homeowners insurance do I need is the first question you need to answer. Knowing how much you need to insure and what all you want to cover based on the budget, types available, and risks around you makes it easier to choose the right insurance.
Get a home insurance quote – Do not sign up for the first policy that hits your desk. Get a quote from a few companies. You can ask friends and neighbors for the best homeowners insurance rates. Getting quotes will help you understand how each company charges for various coverages they offer.
Compare Policies – Next, compare the policies. You can compare the costs, extent of coverage, paper requirements, the period of coverage, how long it will take to pay for the damages, and various other parameters.
Liability Limit – Every homeowner's insurance policy has a limit for liability. Different companies offer different limits. Just selecting the policy with the highest limit is not a good move. You need to understand the extent of liability and its circumstances.
Understand Clauses – All these insurance companies have various clauses. These clauses are something a homeowner might miss. If the insurer does not fulfill these clauses, or if there are issues according to these clauses, the company needs to provide you with the insurance they promised.
Check Ratings – Some companies can promise to cover everything and give you more than what you require. It can sound very tempting just to sign and pay for it. However, be careful. Beware of frauds and companies that just try to trap you. Some companies will promise a lot but will find ways and means to get out of honoring the policy. It is important to check the ratings and reviews of the companies to understand how they honor their commitments. Do they pay the promised amount immediately, or do they drag it for years? If you are going to get your money only after many years, it does not offset your losses.
Know The Pitfalls – All insurances have pitfalls, be it home insurance or vehicle insurance. These are clauses and the fine prints which protect the policy provider from having to give you the money in case of a loss. You need to analyze the policy and get an expert opinion if needed. There is no point in paying for a policy that will be of no use to you later, simply because there was a tiny clause you missed while signing.
Do Not Rush – One of the most important tips is not to rush. Do not rush to sign house insurance just because you have found the perfect property and don't have any time to peruse through and select the right homeowners' insurance. Your house insurance is very important and can cost you a lot in case of an accident. So, spend some time, put in the effort, and choose wisely.
Homeowners Insurance And Mortgage
When you want to take out a mortgage on your house, the lender will ask you to take house insurance. You can opt to take one outside on your own or through the lender. If you go with the lending bank, your options are minimal. Whereas if you choose to take one outside on your own, you can compare and choose the policy that suits your needs the best.
Do I Have To Pay Homeowners Insurance Through Escrow?
No, you don't have to pay your homeowners insurance through escrow. But, When you take insurance while applying for a mortgage, is homeowners insurance included in mortgage? Yes, they are. A part of the money you pay towards the mortgage is set aside by the lender in an escrow account. Once the insurance amount is due, they will pay the money through the escrow account.
Do I Need Mortgage Insurance?
Mortgage insurance is very different from homeowners insurance. If you are making a down payment of less than 20% of the house's value, mortgage insurance is necessary when you buy the house. It is an extra payment that is usually accommodated within regular mortgage payments.
If you are taking out a loan and do not meet the regular mortgage requirements, the mortgage insurance companies will require you to take mortgage insurance to protect their interests. In case you default on payments, the insurance will cover their losses.
Do You Have To Have Homeowners Insurance? Is homeowners insurance required?

Are you still wondering is homeowners insurance required? Here are five strong reasons why you should seriously consider investing in one:
Wide Coverage – A homeowners insurance policy will cover the house building and your other structures on the premises, the belongings inside the house, and those belongings even when it is outside the house. Such a wide coverage will protect you from unexpected losses and damages.
Safety Net – We generally tend to invest a major part of our savings into a home. Some even take out loans to buy a house. In case of an accident that destroys your house and its belongings, you will be left out on the street with loans left to pay. A homeowners' insurance will compensate for such a loss, and you can restore that house of yours.
Temporary Assistance – If you cannot live in your house due to an accident, the insurance will cover the costs even if you have to temporarily stay in a hotel, rent another house or put your things in storage.
Stress-Free – When you know you and your family are financially safe, even in case of an unexpected accident or a natural disaster, it will reduce your stress. You won't be worrying about what to do for a living situation when you are in the middle of a thunderstorm.
Mortgage Requirement – When you want to take a mortgage on your house, you need a house insurance policy. If you do not have one, the lender will require you to take one to protect themselves. Now, when you are already taking out a loan, taking insurance then is an added expenditure.
If you are not sure when to get homeowners insurance, the answer would be at the earliest, for the various reasons stated above.
How to Change Homeowners Insurance?
You may want to change your homeowners insurance policy to increase coverage or find a better offer. No matter the reason, do not cancel the existing policy until the new policy is through. You have to close the existing insurance policy, withdraw it, and pay it towards the new policy. It may seem expensive as your funds might be stuck, but this will prevent a lapse in coverage.
When you cancel the policy midway, you may get a refund into your escrow account. Once you buy the new policy, inform your mortgage servicer about the change in policies.
Conclusion
Your home is where you and your family live and make memories. It is not easy to just take off and start afresh in case of an accident. The insurance coverage will help you repair or even relocate to a new place in case of an unfortunate accident. A homeowners' insurance policy is an investment to protect one of your most valuable assets.