Moving companies make life easier because they help achieve one of the most important events in a person's life. Although moving can be hectic, sometimes the best moving company can make this event bearable. The stress of leaving behind your friends and family that you have been with for years can be overwhelming, but what will make you feel great is if the moving process is swift without any hassle.
According to a survey by move.org, 80% of respondents turned to moving companies for help. The United States Census Bureau also states that a whopping 27.1 million Americans moved in 2021 alone. If you do the math, you find that many Americans regularly depend on moving companies to make life easier. If you've got a moving date circled on your calendar, finding the best moving company is in your best interests.
That said, looking for the best moving companies is easier said than done, and the prospect might seem daunting. After all, "moving stress" is a real thing. When you're relocating, there are many "moving" parts you need to keep track of, such as boxing up your belongings, cleaning up, and running some last-minute errands.
The good news is that choosing the right moving company doesn't have to be another hassle. Dealing with moving companies is the best thing you can do when transferring your precious belongings from point A to B.
What Do Moving Companies Do?
The best moving companies are full-service companies that provide a variety of services. Reputable full-service movers do everything possible to get your belongings safely transported to your home. The list includes packing, loading, transportation, unloading, unpacking, and arrangement.
What Exactly Is A Moving Company?
A moving company is also known as a removal company. This type of business exists to help you move your belongings, property, or goods from one place to another when you're relocating your household or business. Uprooting your business or household takes a lot of energy.
Things can get tricky when you attempt to move heavy and bulky items like equipment, desks, refrigerators, washers and dryers, sofas, couches, and mattresses.
A moving company is more than a man and van company because it can facilitate large-scale moves. It's often surprising how the contents of even the smallest home or office can contain so much furniture and belongings. Moving companies provide the relocation services you need regardless of how much of your property you need to transport.
What Services Do Professional Movers Provide?
Here's a detailed list of the type of moving services you can access if you're moving house or your business is relocating:
Packing and unpacking
You can take advantage of professional packing services if you think this task will be too time-consuming and laborious. The good news is that this service includes packing material, such as boxes, tape, and paper.
Reputable movers will take extra care when packing fragile items like glassware, mirrors, and other breakables. Once you get to your new location, the movers will also help you empty all the boxes and get rid of all the packing materials.
Furniture Disassembly and Reassembly
Movers can also do many things to prepare your furniture, so it's easier to load. They can remove legs from your couches, chairs, cribs, and tables where possible. They'll also disassemble any furniture that can be taken apart or remove doors that may be in the way.
Transportation of Specialty Items
Specialty moving covers unique and highly valuable items, such as priceless art, pianos, antiques, and vintage wine collections. These specialty items require unusual care and have strict handling instructions. In that case, you need experienced movers that can provide a stress-free arrival. This often comes with an extra cost.
Transportation of automobiles
Some movers offer auto transport. This is handy if you have more vehicles than you can drive or plan to be flying to your new location. Besides auto transport, your movers can also help you with boats, jet skis, and other watersports equipment.
Shipping and Delivery
If you're moving overseas, the shipping process can be hectic. Some moving companies can assist you with transporting your cargo and ensuring that your belongings are delivered to your new location.
Loading and Unloading
When you have professional movers on the job, you don't have to worry about loading and unloading the moving truck. All the heavy, bulky, and specialty items will be moved into the transportation vehicle, then your new home without you having to lift a finger or break your back.
Storage and Rental Options
Some moving companies provide storage options to safely keep your belongings until you're ready to move them to your new home. A moving truck rental company is for DIYers who don't mind loading the truck up and driving it to the new location.
Junk Removal
If you're moving, some professionals will offer junk pickup services. Not all movers offer this service, so you may have to work with a junk removal or dumpster rental company specifically for this.
What Will Professional Movers NOT Do?
Most moving companies will not connect or disconnect your appliances, power, or water lines unless they offer an appliance service. They also won't connect or reconnect any complex home entertainment systems. As a homeowner, it's your duty to ready your appliances or hire a professional who can do these things.
Movers are not willing to handle these tasks to protect themselves from liability if something goes wrong with your appliances. Remember, professional movers are generally not licensed to perform any tasks that involve plumbing or electrical work. However, once you have prepared your appliances for moving, your moving crew will be happy to transport them safely and carefully to your new location.
Here's a list of top things that professional movers will likely not move:
Perishable foods
Anything that contains flammable material, such as cleaning supplies, liquor, and nail polish remover
Hazardous materials, such as fertilizer, pesticides, motor oil, batteries, and acids
Weapons, ammunition, and fireworks
It's a good idea to talk to your moving company to see what they will and won't do or move so that you can make the necessary arrangements ahead of time.
The 4 Best Moving Companies of 2023
American Van Lines
American Van Lines is one of the long-distance moving companies, and it is family-owned. According to craft, this company has only one location in Pompano Beach, Florida. Although it provides moving services all around the country, if you don't live in Florida, the google search query, "moving companies near me," will not show this company. American Van Lines offers storage services, auto-shipment, and full-service moving.

With a 4.7 rating, Forbes has recommended this moving company. Move.org posits that this company's business model is a broker-carrier hybrid or brokers, which outsources all your moving needs to other companies. So American Van Lines works with cross-country moving companies and Interstate moving companies; the only downside is that customers are not provided with online moving quotes.
Also, this company is frequently confused with North American Van Lines; despite the name similarity, these two companies are very different.
Pros
Acclaimed as of the Most Experienced Movers.
The Employees are Background Checked.
American Van Lines is a certified piano and antique mover.
Provides Flat-rate pricing.
The moving quotes estimates are binding.
Offers Price Matching.
Cons
Estimation is not handled online.
The company can quote slightly higher prices than competitors.
International Van Lines
As the name suggests, International Van Lines is both International and cross-country movers; they are technically expert long-distance movers. According to Forbes, this moving company is best rated because of its wide range of services, and it provides; vehicle transportation, Full-service packing, boat transport, furniture assembly & disassembly, comprehensive insurance options, Online quotes on request, and auto shipping, home cleaning, and shipment tracking.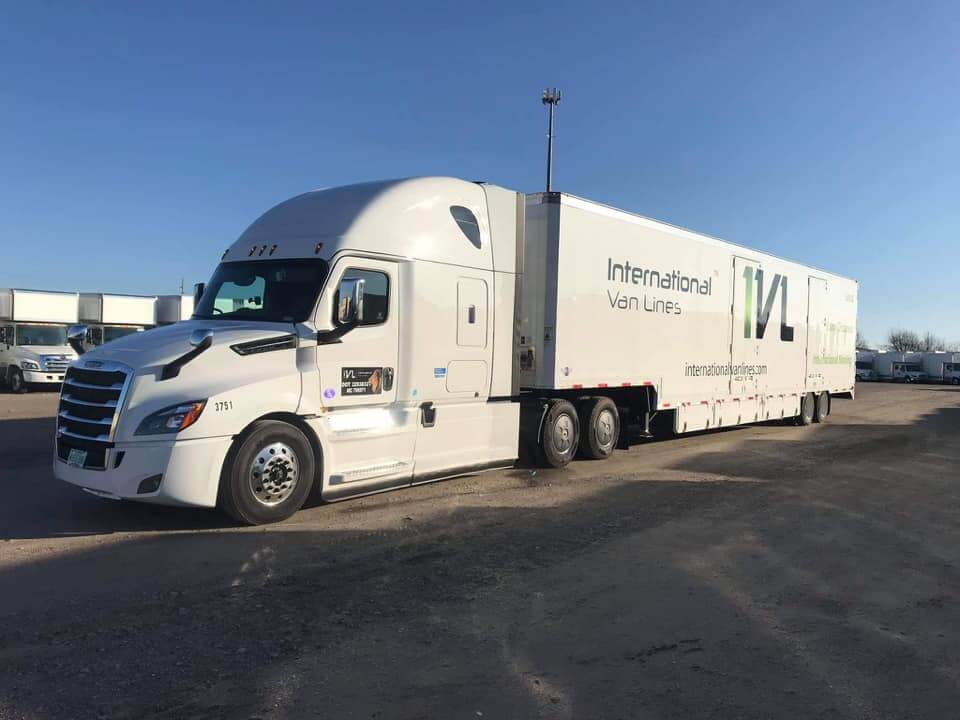 The 4.8 rating of this company is mainly accredited to its incredible customer service. If you google "local movers near me," International Van Lines will be available. It has over 3000 partners globally, making it one of the best long-distance movers for personal and business needs.
Pros
Excellent Customer Service.
Ample Cancellation Period.
Available worldwide.
Long-term and Short-term storage.
Provide VIP moving services for pianos, artwork, and antiques.
Vehicle Relocation.
Cons
Requires up-front deposit.
The prices are slightly higher than competitors.
North American Van Lines
North American Van Lines is a moving company best known for its customizable services. This industry leader mostly focused on international, corporate, and household moving. It is available for both local and long-distance moving. Their customer service has been praised, and apparently, it is made possible by their network of over 500 international agents. This organization is both a carrier and a broker that suits every customer.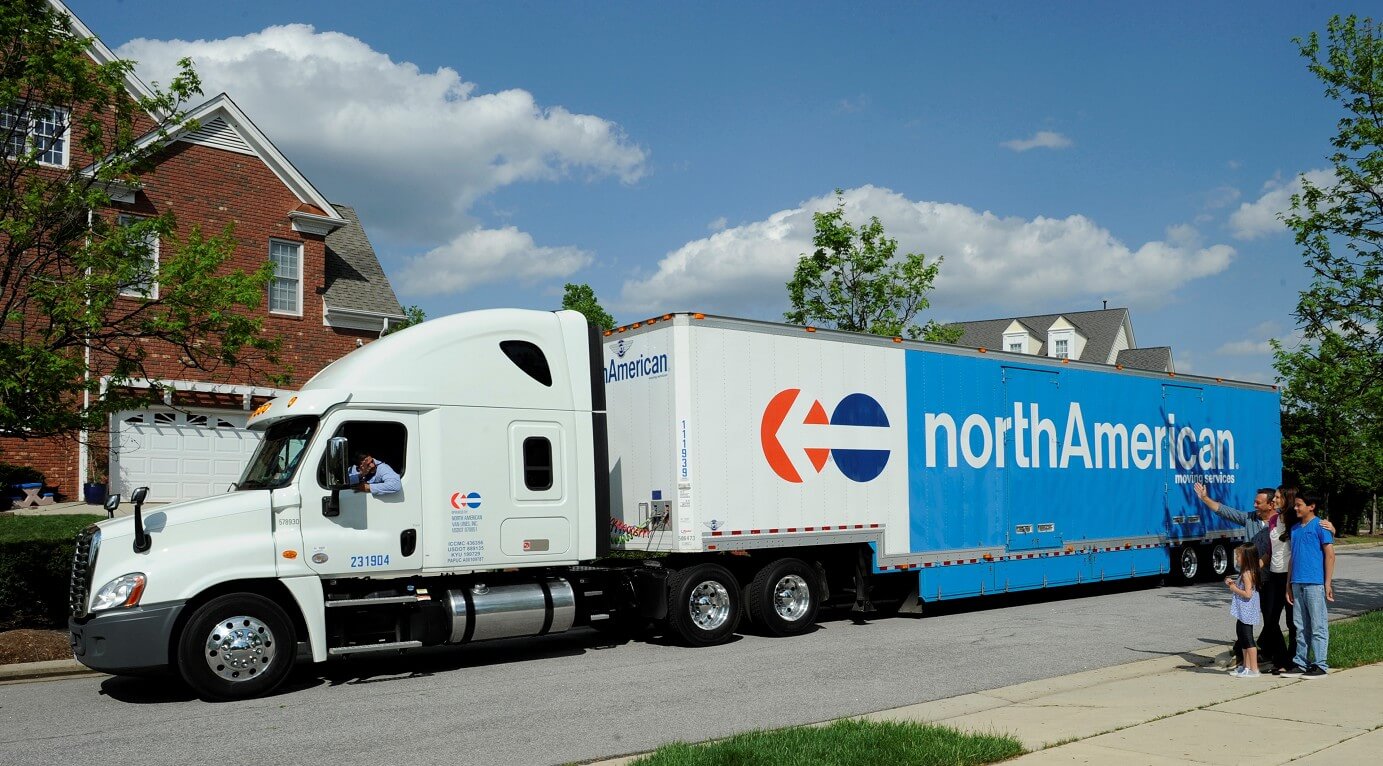 Its services are customizable, meaning that you choose services that suit your needs and budget. You can select the moving crew if you have an unlimited budget and pack for yourself if the budget is tight. Apart from that, the North American offers different customer resources that help ease the stress of moving; a virtual move survey, packing calculator, packing tips, and a mover checklist are some resources you can use.
Pros
Excellent 24hr. Customer Service
A large number of moving agents are available locally.
GPS tracking of your shipment.
The claims process is detailed and transparent.
Many online resources and tools for the customer.
Cons
Then Cancellation policy is restrictive.
Offer fewer insurance options as compared to other Movers.
Moving agents and storage options might be limited to some locations.
Allied Van Lines
Allied Van Lines offers different moving services but is best known for vehicle relocation services. According to Allied Van Lines, Newsweek has recognized it as one of the best customer service providers, delivering what it promised to its customers. This sentiment is echoed by many reputable websites such as ThisOldhouse, Forbes, and others, which give this company a rating of 4.7/5 and 5/5, respectively.

Unlike other moving companies, it does not outsource shipping services to other companies. When you contract this company, be assured that no other third parties will be involved in the process. This moving company offers full-service packing, online quotes, container moving, vehicle shipping, and GPS tracking. What sets this company apart is that all these services are provided with no upfront deposit. Additionally, this is a local and cross-country moving company.
Pros
The cancellation policy is accommodative in case you change your mind.
It is relatively cheaper than its competitors.
Container Shipping service.
Great insurance options for your goods.
It is available in all 50 states and over 100 countries internationally.
Storage Services are available.
Furniture assembly and disassembly.
Cons
Local moving prices might be slightly higher.
Customers have complained about the claims process for lost items and damaged goods.
The Instant online moving quote is not instant because a customer representative calls you back intending to convince you to buy the services.
Why Choose a Moving Company? – The Top Benefits
Your typical and reputable moving company comprises wonderful professionals that are always on standby to help you relocate the easy way. If you're wondering whether hiring a professional moving service is worth it, these benefits will help convince you that this is the best decision.
Save Time, Money, and Energy
Professional movers are masters of their craft. Your crew of movers will be in and out of your home faster than you can do on your own. They'll ensure that you stick to your schedule and have plenty of time to focus on other things like your family and other stuff on your moving to-do list.
Instead of spending your time huffing and puffing while trying to maneuver your bulky mattress through the tight doorway (and also wondering how it got there in the first place), it's better to leave it to the professionals. You can save a lot of time and energy by not having to wrap and pack every item in your house.
Most importantly, you can potentially save money because hiring movers frees up valuable time that you can use to be more productive. Plus you don't have to rent moving tools and equipment, which can be expensive.
Enjoy Low Stress and Peace of Mind
Once you take the stress out of the equation, moving can be a mostly positive and exciting process. When you hire a professional team for your move, you don't have to subject yourself to the heavy physical and emotional labor of lifting heavy furniture and wondering how to navigate the chaos in front of you.
Instead, bringing professionals on board means smooth sailing, allowing you to hit the ground running once you're in your new home. All you have to do is do your due diligence in finding reputable professionals, and you can sit back and enjoy peace of mind.
Find Customizable Moving Services
Your home is unique, and your belongings are unique, so it goes without saying that your moving experience will be unique. Fortunately, you can take advantage of customizable moving services tailored to meet your timeline and needs. For instance, you can opt for partial packing services if you want to do most of the packing while leaving the fragile or specialty items to the professionals.
Some movers also offer add-on packages or a menu of services. You can pick and choose the services that apply to your situation, whether you need trash removal, storage services, or valuation of your belongings. This also allows you to match the services to your budget, making your move enjoyable and efficient.
Keep You and Your Belongings Safe
According to The Economics Daily, transportation and material moving workers experienced over 180,000 injuries and illnesses in 2018 alone. Clearly, this moving business is fraught with risks and attempting to lift, load, and handle furniture without the right level of experience and expertise can be dangerous work.
To avoid straining your back or injuring yourself, it's crucial to hire only the experienced movers with the skills and equipment to maneuver the heavy stuff out of your old home and into the new one. It's easy to bend down and incorrectly lift and move a heavy box, but the toll it takes on your back can be long-term.
There's also the risk of damaging your valuable items. If you hire professionals, they may offer inventory services to keep track of your belongings and ensure each item is packed and handled properly.
This helps you avoid scenarios where you bump furniture into other objects or drop boxes containing fragile items. Movers have the professional tools and techniques to prevent damage to your belongings, and they'll use tools like furniture sliders, floor runners, moving dollies, and moving blankets. They'll also secure your items nicely to prevent collisions during transit.
Ensure a Seamless Moving Experience
Choosing the best moving company means you can enjoy a seamless relocation experience. Remember, you're dealing with people who have the moving process down pat. They help people move daily, so they have already figured out how to ensure a smooth and organized move for clients.
While you may be tempted to do it all yourself, using a professional moving company can help iron out all the kinks, stress, and strains that come with moving. Chances are your moving checklist runs a mile long, and the tasks are packed into a strict timeline. By handing over the tedious tasks, such as packing, labeling, and taking inventory, you're more likely to have an easy and convenient move.
As you can see, there are a plethora of reasons why you should hire movers. The best moving company will go out of the way to ease the burden of moving from the moment you get in touch to where they pull out of your driveway.
Types of Moving Companies
Auto transportation companies. Car moving companies move your car or vehicles to your new destination.
Commercial movers. Commercial movers help relocate offices and businesses. They often cost more than residential movers.
Full-service movers. These movers provide a comprehensive service and are there to help from start to finish. They offer services such as packing, loading, transporting, unloading, unpacking, and more.
Residential/Household movers. These companies only specialize in moving household items.
Partial moving services. This is when you only need specific moving services, such as loading and unloading or pickup and delivery services.
Portable moving and storage services. These companies drop a portable storage container at your doorstep, which you load on your own. The company then picks the container up and delivers it to your destination.
Self-service movers: A moving company that provides you with a truck or trailer and equipment to load and unload yourself.
Small moves movers. As the name suggests, these movers are available if you only need to transport as few items as opposed to the entire contents of your home.
Specialty movers. These companies specialize in moving unique items, such as antiques, high-value art, pets, and pianos.
Last-minute movers – These companies offer same-day moving services to people who need to find movers on short notice or have a moving emergency. As much as 63% of movers interviewed in one survey said their move was unexpected so that last-minute movers can be a lifesaver.
Moving Companies By Distance
How much distance are you looking to put between you and your old home or location? You can find many moving companies that will help you go the distance, whether you're moving across the country or somewhere closer. Here's how you can categorize moving companies by distance.
Local Movers
Compared to cross country movers and other long distance movers, local movers can provide you with a faster and cheaper relocation experience. That said, even if you're moving locally, you'll still require professionals to help you lift and carry heavy household items.
After all, it's not always that you have a bunch of reliable friends that can assist you with moving short distances within the same state while keeping your furniture protected. Even local moves can be stressful, and using a good local moving company can make life easier for you.
According to one survey that looked at 2021 moving trends, 43% of moves were within the same city and 35% within the same state, while only 20% and 2% were to a different state or country, respectively. However, remember that you might need to hire a long distance moving company if your move extends beyond a certain radius, even if your new home is still within the same state.
Out of State Movers/Interstate Moving Companies
Hiring professional state to state movers makes sense where long distance moving is involved. Moving a long distance is an even bigger undertaking than moving locally, so you need to search for the best long distance moving companies. The best cross country movers provide tailored services suitable for long distance moving because they are licensed to work outside state lines and provide cross-country movers.
The biggest benefit of using a local long distance moving company is that it's easier to pack and move your entire household all at once instead of making multiple, costly trips crossing state lines. So hiring cross country moving companies could potentially save you plenty of time and money.
The best interstate moving and storage companies will have the right size vehicles to accommodate and store your belongings as needed. Most national moving companies will have the expertise and resources to transport all your property to your new location securely.
International Movers
If you're considering making a big move overseas or to a different country, you may need to look for more than out of state moving companies. Most international movers are larger companies that offer additional services like domestic moves, office moves, secure storage, and vehicle transfer. So they can still be a great option if you're looking for moving companies long distance.
Moving abroad can even be more stressful than moving within or out of state. To ensure that the experience is as stress-free as possible, it's essential to choose the best long distance movers that specialize in international removals and offer services such as worldwide shipping and moving insurance to protect your belongings and transport them to your new country of residence.
Interesting Statics Related to the Moving Industry
How to Find the Best Moving Companies
According to Statista, there were approximately 17,446 moving companies in the U.S. Judging by past trends, this number continues to increase. With so many options, finding the best moving company for your needs might seem like an overwhelming process at best and a nightmare at worst.
Thankfully, finding the moving services you need doesn't have to be a hassle when you apply these tips.
Know What You Want
Each move is unique, so you need to figure out the fine details of your move before looking for the best moving companies. For instance, how far are you going and what do you need to transport? You need to look for interstate movers if you're crossing state boundaries. Similarly, if you need to transport custom items, you're better off looking for specialty movers.
Get Recommendations
Ask family and friends, or search online. Check moving company reviews and ratings to find out what other clients say about the company. When looking for suitable recommendations for local moving companies, you can use specific search queries, depending on the type of services you need. For instance, typing the following into Google often gets you the following results.
moving companies near me
local movers near me
long distance movers near me
best moving companies near me
Look for Services With Added Value
Moving companies are not made alike. The best movers go the distance to ensure a pleasant and smooth moving experience. For example, they can complete the job within a smaller delivery window and communicate throughout the process, so you stay on the same page. Others have the right equipment, tools, and materials, such as packing supplies, pallets, furniture blankets, furniture pads, appliance dolly, and dividers.
Compare Quotes
The rule of thumb is to get as many moving quotes as possible and compare them. This will give you a good idea of what fair price to pay to get your belongings transported. A word of warning: The cheapest quote isn't always the best. Be sure to consider other essential factors, such as the company's track record and reputation, experience level, and customer service quality. In addition, it's recommended that you choose a licensed and insured company with the right certifications.
How to Determine the Cost of Moving
According to Forbes, the average cost of moving ranges from $800 to $5700 or more, depending on the distance and amount of property moved. That said, various costs and charges come into play when moving. The list includes:
Accessorial charges – You may be charged extra for services beyond baseline transportation costs, such as packing, loading, or furniture assembly and reassembly.
Bulky article charge – This charge is incurred when you have particularly large items, such as pool tables.
Elevator charge – This additional charge applies if your items have to be moved via an elevator.
Flight charge. This charge applies when movers carry items up and down a flight of stairs.
Linehaul charges – These apply to long distance moves and are calculated based on the distance and weight of your shipment.
Long carry charges. They apply when the distance from your residence to the truck or moving van is longer than usual.
Other factors that affect your total moving costs include:
Moving date. The cost of moving also depends on the time you move. Peak season rates apply during busy seasons for moving companies.
Moving conditions. If the moving conditions are less than ideal, this results in what's known as impracticable operations. The company must use special equipment or additional labor, which comes with extra costs.
Since many factors can affect a move, be sure to ask your movers about all the involved costs so you can budget accordingly. Be aware of the difference between binding and non-binding estimates before entering into any agreement.
Moving Companies FAQ
When Is the Best Time to Hire a Moving Company?
Knowing the best time to hire movers can make the process cost-effective and efficient. Generally, the summer months tend to be the busiest season for moving companies though this may vary with location.
According to a moving trends analysis by Movers Development, moving companies were busiest around June, July, and August, with Friday being the busiest day. In any case, it's best to hire a moving company at least several weeks before moving day. When choosing your moving day, keep these trends in mind to make the best, informed choice.
Is It Necessary to Hire a Moving Company?
You have several options when moving. You can do it yourself, ask family and friends for help, or hire professional movers. Doing it yourself can look like the best and most cost-effective option.
However, it involves collecting moving supplies, packing individual items, labeling boxes, finding a truck that accommodates all items, loading the truck and lifting the heavy stuff, driving a large moving truck, arriving at your destination, and having to do it all over again. Not to mention all the other things that demand your attention, like changing addresses, finding a school for your kids, or hosting a garage sale.
Asking friends and family for help can be as difficult as doing it yourself. On the other hand, the best moving companies offer a wide range of services from packing and unpacking to loading and unloading, plus everything in between. So, it's highly necessary if you want to avoid most of the common moving-day stresses.
How Can I Best Prepare Before the Movers Arrive?
Here's a quick list of essential things you can do to prepare for movers:
Sort through your items and remove things that are staying behind
Put aside valuable and other personal items you intend to transport yourself
Clear pathways inside and outside the home
Choose the perfect parking spot for the moving truck
Disconnect all your appliances
Be ready with any special instructions you want the moving crew to take note of
Have refreshments available – it's not mandatory, but your crew will be highly appreciative
Ask the movers if there's anything you can do to streamline the process
Should I Be Available When the Movers Arrive?
It's generally a good idea to be available on the moving day. That way, you can easily watch over your items and ensure you receive quality service. At the very least, the movers need someone to let them in and help navigate your home. Talk to your movers to determine if you should take some time off or get workaround solutions in case you might not be available.
How Long Will the Movers Take?
The time it takes to get everything sorted depends on the size of your home, how many items you need to move, whether your move is long distance or short distance, and other factors. Long distance moves can take up to two weeks or more until delivery.
Am I Obligated to Help the Movers?
The best way to help the movers is to prepare for their arrival and ensure there are no delays once the moving truck rolls in. From there, you can ensure that the movers do an efficient and quick job by staying out of their way and avoiding micromanaging.
How Can I Make the Cost of Moving Cheaper?
Tips to reduce moving costs include:
Looking for free boxes, instead of purchasing
Getting rid of clutter and not moving unnecessary items
Shopping around and comparing estimates from at least three moving companies
Packing everything yourself or with the help of family and friends
Choosing a cheaper date or month to move
Get moving insurance to avoid unexpected costs
Negotiate and look for discounts
What Moving Terms Should I Be Aware Of?
Here's a list of moving terminology you may need to understand:
Agent – A local moving company that's part of a larger national company.
Bill of lading – a legal and binding document issued by a carrier. It acts as a receipt and contains essential details about the move.
Carrier – The mover that transports your belongings.
Cargo claim – This is a claim you would file if you found out some of your goods were damaged or broken during a move where you hired a moving company.
Inventory – a detailed list of all the goods and items to be transported showing details, such as quantity and the condition of each item.
PBO – A term used by moving companies to refer to boxes that have been "packed by the owner."
Standard coverage – The minimum free valuation coverage you can expect from a moving company according to the law.
Storage-in-transit – This is when your goods are temporarily stored in a warehouse awaiting transportation, commonly because the new place isn't yet ready for occupancy.
Tariff – The complete details of a moving company's rates, rules, and regulations.
Need to know more about the nitty gritties of the moving process? Learn more about your rights and responsibilities when you move as advised and regulated by The Federal Motor Carrier Safety Administration (FMCSA).
What are the Best Moving Day Tips?
Need the best moving tips to make things easier for you? You can pick and choose from the following list what works for you:
Take the opportunity to spring clean and declutter your home to avoid moving useless stuff. Donate stuff you don't need, which is still too good to throw away.
Think of moving as going on a long trip and pack accordingly. This allows you to pack ahead of time, so you're only left with packing daily essentials by moving day.
Label your boxes and include a list of each box's contents, which is handy when you arrive and need to unearth specific items.
Pack all of your essentials separately and take them with you. Essentials include toiletries, phone chargers, and a change of clothes or two.
Hire movers if you can afford it. This will eliminate so much stress from the whole process. (this is the most important tip of all!).